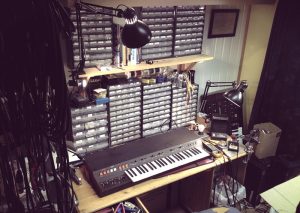 Since 2005, we've run a very busy repair shop for pro audio equipment and vintage gear in general.
We prefer fixing old, cranky analogue gear* – Tube amps**, microphones, consoles, outboard, effect pedals and tape echoes are all welcome.
Due to how short life is, we unfortunately can not offer service on consumer grade equipment, monitors, speakers or PA-systems. We also do not do home entertainment systems, solid state amps, acoustic instruments, non-music equipment, or anything by Behringer***.

If you're in a hurry, note that with the the small size of our operation, some repairs might take a while, especially if parts have to be imported. Effect pedals, guitar amps and outboard generally have a quicker turn-around than vintage synths and restoration work. If you're just looking for some advice or odd part, we will try to help as much as time allows.
Pricing: NOK 1200,- + MVA/hour. Minimum fee of 400,- + MVA. (Guitar effects NOK 600/200,-)
The repair shop is located in Gøteborggata 23 at Grünerløkka,  Oslo. Opening hours: 10 – 16:00, Monday to Friday. Call prior to visiting to make an appointment, as we might be out for on-location services.
—
* We only do ARP Soloists if your name is David, ARP Omnis only if your name is Kim, and anything Simmons only if your name is Dan.
Also, see locomofon.no/2018/08/08/no-more-big-old-synths-please
** Not including Crate, Laney, Blackstar or hybrid amplifiers.
*** Or from underneath the "Music Tribe" umbrella – or of similar build quality or business philosophy.