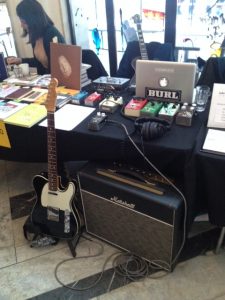 We build a small series of effects for bass and guitar that has come to enjoy a bit of fame around the globe. We love distortion and texture, and most of our boxes will not blend in naturally or just add a bit of polish. A couple of them do that, and we've labeled them the "utility series": studio necessities that sound great, but all in all we tend towards screaming madness and thick clipping feedback.
All are solid builds for heavy stomp action, with no pop mechanical true bypass. All are powered by a 9V Boss style adapter or the internal battery.
"I sincerely apologize for not reaching out to praise you earlier. From the moment my paws first touched your creation, it has since been as necessary a tool to me as cutlery."
– Aaron North
UPDATE 11.02.2021: The effects are now built-to-order exlusively, until our paint shop reaches non-freezing temperatures.
Available for order:
Fuz Completo
– Germanium fuzz modelling

Everyscream
– TS type overdrive modeller
Calavera
– Germanium bender fuzz
Monito
– Bassboosting blendfuzz
Platanito
– The Monito fuzz element stand-alone
Radiator
– CMOS/JFET textured overdrive
UTILITY SERIES
Baby Tokyo
– Citrus familly compressor
Boustier
– Dirty booster with tone control
Schmolume
– 1 knob clean boost
DISCONTINUED/IN  REVISION
Caffeine
– Square wave tainted tremolo
Kindergarten Blitzkrieg
– Octave up blendfuzz
Kindergarten Panzerskräck
– Octave down blendfuzz
CURRENTLY PROTOTYPING

The Rubbish tremolo, the Junkie Puke distortion and the Sandblaster fuzz is currently being developed for release. ETA TBA, ETC.