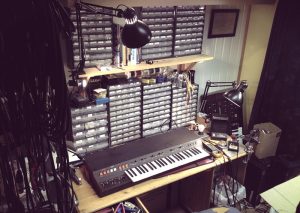 We run a busy repair shop for pro audio equipment and vintage gear in general. This runs by appointment only, and there is always a queue.
We prefer fixing old, cranky analogue gear – Tube amps, synthesizers, consoles, outboard, microphones, effect pedals and tape machines are all welcome. We do not do home entertainment systems, radios, turntables* or non-musical equipment, or anything by Behringer**.
If you're in a hurry, note that with the the small size of our operation, repairs might take a while, and even longer if new parts have to be imported. If you're just looking for some advice or odd part, we will try to help as much as time allows.
Pricing: NOK 800,- + MVA/hour. Minimum fee of 295,- + MVA. (Guitar effects 195,-)
The repair shop is located in Enebakkveien 69 in Oslo. Opening hours: 10 – 16:00, Mondays to Fridays. Call prior to visiting to make an appointment, as we might be off for on-location services.
—
* Ok, we do a few, but only on special occasions for now.
** Or of similar build quality or business philosophy.