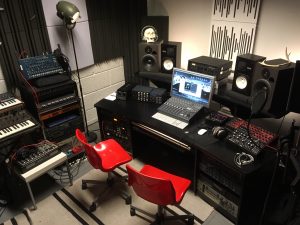 We run a tiny but well equipped programming studio together with NAG records and Zensor ANS. Services include recording, mixing, scoring, voice-over and post production.
We also have a portable rig available:  Record at your chosen location through 18 lines of top shelf pre-amps and then come mix with SSL analog summing into BURL converters.
Our microphone locker includes:
AEA R44CE
AEA R88 mkII
AEA R92
AKG D12
Cascade Fathead II (blumlein pair)
Sennheiser e835 (x 3)
Sennheiser e904
Sennheiser e906
Shure SM52A
Shure 520DX Green Bullet
Shure SM57 LCE (x 2)
Shure SM57A Beta (x 2)
Shure SM58
Shure SM7B
Sontronics Orpheus
Sontronics Sigma
Complete gear list on request.